MOTOROLA WALKIE TALKIE XiRP-8668I/8660I
MOTOROLA WALKIE TALKIE XiRP-8668I/8660I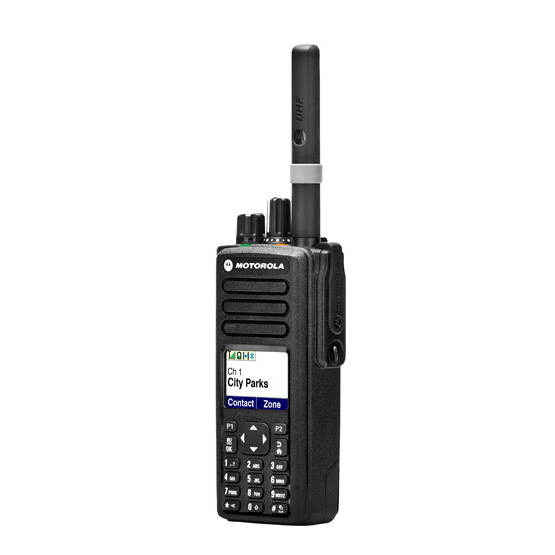 MOTOROLA WALKIE TALKIE XiRP-8668I/8660I
From the factory worker making components to the road crew making repairs, MOTOTRBO can transform your enterprise and make employee interactions smarter and safer. Our best-in-class audio and unrivaled data capabilities empower people like never before.

The XiR P8668 portable delivers unrivaled voice and data communications with integrated Bluetooth audio and data*, and integrated GPS*, and best-in-class audio that includes Intelligent Audio and customizable voice announcement feature. Available in UHF and VHF frequency bands, the XiR P8668 features a 5-line display, full keypad, up to 1,000 channel capacity, five programmable buttons, emergency button, IP57 specifications for submersibility and FM intrinsically safe option.
Radio Features
---
Transmit interrupt :
Yes
Private line :
Yes
Lone worker :
Yes
Voice announcement :
Yes
Intelligent audio :
Yes
Programmable buttons :
Yes
Time out timer :
Yes
Text messaging capable :
Yes
One to one calling :
Yes
Phone book :
Yes
CPS (Customer Programming Software) :
Yes
Number of channels :
1000
Caller ID :
Yes
Call forward :
Yes
Integrated voice and data :
Yes
Digital private line :
Yes
Monitor Permanent (Sticky) Monitor :
Yes
GPS capable :
Yes
Signalling :
MDC (Encode/Decode), Quik-Call II (Encode/Decode), DTMF Encode
Bluetooth :
Integrated Bluetooth audio, Integrated Bluetooth data
Voice operated transmit (VOX) :
Yes
Talkaround :
Yes
Scan types :
Normal, Priority, Dual priority, Nuisance channel delete, Talk group, All group, System, Home revert
Group call :
Yes
Missed call alerts :
Yes
Channel spacing :
12.5, 25
Channel Scan :
Yes
Call tones :
Yes
Busy channel lockout :
Yes
Technology
---
System type :
Conventional, TDMA, Capacity Plus, IP Site Connect
User Environment
---
Submersible :
Yes
Intrinsically safe :
Yes
Noise reduction software :
Yes
Factory Mutual :
Yes
Military Standards :
810 C, 810 D, 810 E, 810 F, 810 G
IP Standards :
IP57
NNTN8189
Operations Critical Wireless Earpiece with 12" cable
NNTN8191
Operations critical wireless push-to-talk
RLN5887 - High Noise Kit
High Noise Kit* with 2 foam earplugs.
PMMN4025
IMPRES Remote Speaker Microphone with 3.5mm Audio Jack & Emergency Button
NNTN8295
1- Wire Earbud for Wireless Push-to-Talk pod with 45" cable, Black.