KENWOOD WALKIE TALKIE TKD-240
KENWOOD WALKIE TALKIE TKD-240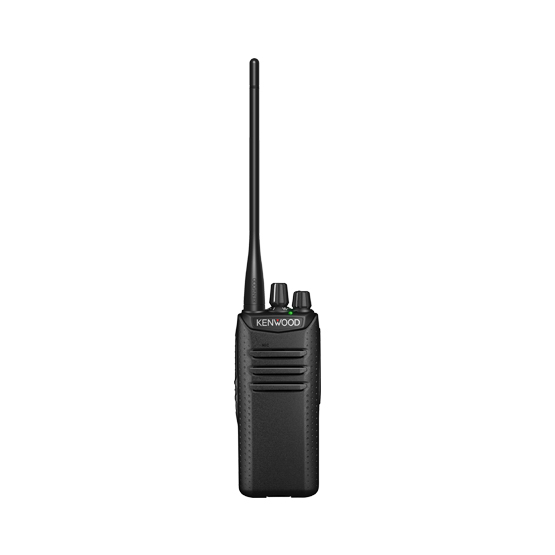 KENWOOD WALKIE TALKIE TKD-240
Ergonomically styled yet tough enough to comply with both MIL-STD and IP54/55 environmental standards, these portables provide the features and performance needed for a wide range of workplaces – from warehouses and stations to shops and hotels. As well as handling both analog and digital communications, these user-friendly DMR radios can even operate in direct mode, without a repeater.

They also offer such KENWOOD added value as Call Interrupt and 1-watt audio output. These truly resourceful team members will enable you to make the most of your legacy analog equipment while also benefitting from digital communications.
In an emergency or whenever a user needs to interrupt a call, Call Interruption is available in both direct and repeater modes, while encoding or decoding. There is also a Lone Worker function to protect employees working alone.
Other Features
---
• Max. 32 ch in 2 zones (16 ch per zone)
• Wide 70 MHz UHF coverage
• Selectable 16-channel using channel stopper
• 5/1 W (VHF), 4/1 W (UHF) output
• Audio output power 1 W @ 12 Ω
• Scanning functions
• Password protection (read/overwrite)
• Minimum volume setting
• Embedded message
• Selective call alert LED
• Key lock
• Late entry
• Analog signalling: QT/DQT, FleetSync, 2-tone (available later)
• Compander per channel
• Squelch level
KNB-45L
Li-ion BATTERY PACK (7.4 V/2000 mAh)
KSC-43
RAPID CHARGER (for Li-ion KNB-45L/69L & Ni-MH KNB-53N)
KRA-22
VHF HELICAL ANTENNA (Low Profile)
KRA-23
UHF HELICAL ANTENNA (Low Profile)
KRA-26
VHF HELICAL ANTENNA (Standard Length).