KENWOOD WALKIE TALKIE NX-3220
KENWOOD WALKIE TALKIE NX-3220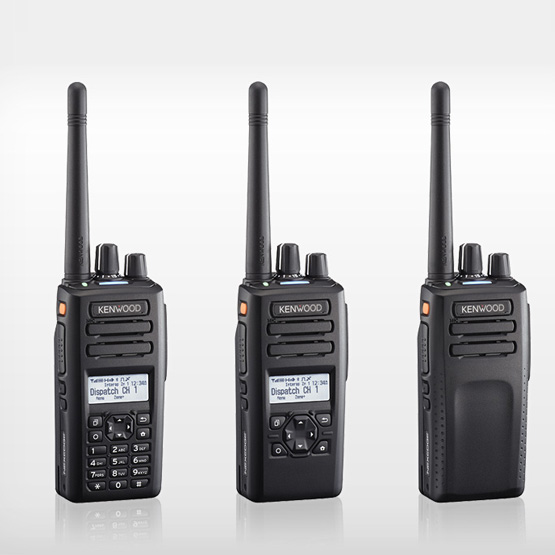 KENWOOD WALKIE TALKIE NX-3220
This versatile handheld radio supports both NXDN and DMR digital protocols as well as mixed digital & FM analog operation, enabling it to serve with distinction in a wide range of enterprise- and operation-critical applications. Compact yet designed with durability in mind, it's packed with convenient features like Bluetooth® for hands-free operation and built-in GPS.

Three different models are available: Full Keypad model with LCD, Standard Keypad model with LCD and a large 4-way D-pad, and the Basic Model without LCD or keypad. Additionally, for expansion capability a software license certification system facilitates extensive customization.

Other Features
---
VHF:136-174 MHz
Multi-protocol digital radio: Designed to operate under an NXDN or DMR digital, and FM analog protocols
NXDN Conventional and Type-C & Gen2 Trunking
DMR Tier II & Site Roaming
Mixed Digital & FM Analog Operation allows gradual migration at your own pace
7-color Light Bar Indicator on the top panel
4-Line Basic Frame (2-Line Main/Sub - LCD, icon & key guide) / 14 Characters
5-Line Text Message Frame (3 Lines of Text, icon & key guide)*1
4-way Directional-pad (D-pad) for intuitive control and operation
Built-in GPS Receiver/Antenna for effective fleet management
Built-in Bluetooth for hands-free operation
Applicable Bluetooth profiles: HSP(Headset Profile provided) and SPP (Serial Port Profile available as an option)
Renowned KENWOOD Audio Quality can be achieved with Active Noise Reduction (ANR) that utilizes built-in DSP
Software DES and AES Encryptions for NXDN Conventional/Trunking and DMR Conventional protocols
Built-in Motion Sensor (Man-down, Stationary and Motion Detection)
IP54/55/67*2 and MIL-STD-810 C/D/E/F/G
Available models: Full Keypad (w/ LCD and full keypad), Standard Keypad (w/ LCD and 4-way large D-pad/4 key), and Basic (w/o LCD and keypad)
2-pin audio connector (14-pin Universal connector models, NX-3200/3300, are also available)
Kenwood VHF 136-174MHz Stubby Antenna
11cm Heliflex Round Top , VHF - 136-174MHz
Kenwood KRA-26M
The KRA-26M is a VHF (146-162MHz) helical antenna for a variety of Kenwood radios.
Kenwood KRA-41M3
The KRA-41M3 is a VHF (136-150MHz) stubby antenna for a variety of Kenwood radios.
Kenwood KBP-5
The KBP-5 is a dry cell battery case for use with a variety of Kenwood radios. The case is used with 6 AA batteries (Not Supplied).
Radiotronics KNB-55L
True 1800mAh Capacity , Lithium Ion Chemistry